Universities are entrusted with the human being value as well as the value of science, and assume, in their educational-intellectual-citizenship responsibilities, to innovate, to strive for social development and to dedicate an alternative culture through their curricula.
We acknowledge that the culture of non-violence is basically marginalized, especially in the Arab productions; therefore, AUNOHR is devoted to add to its specialized library new academic and cultural productions through the following means:
●Translating international literature on non-violence into Arabic, and issuing them in a format suitable for academic use as well as for the general awareness;
●Authoring and preparing new productions that link the culture of non-violence to other sciences and majors;
●Issuing first-of-its-kind series of textbooks with great theoretical and practical benefits for AUNOHR students as well as higher education in Lebanon, the arab region and the entire world.
About the non-violent translations,
Walid Slaybi, the founder of AUNOHR, has launched "the Series of Non-violence Translations into Arabic" since the early 1980s during the civil war in Lebanon. First, the series was initiated by translating texts and chapters of non-violent books and experiences without issuing them, until 1993 when the series was officially launched. The first 14 translated books were translated under the supervision of Slaybi and/or his participation, and published within the period 1995-1999. Ever since, he has continued this cumulative cultural work, and the translations were subsequently carried out by civil bodies which were successively initiated by AUNOHR founders.
The university publications are currently being issued in the name of AUNOHR as well as the name of the Lebanese Association for Civil Rights (the entity thru which AUNOHR obtained its legal license).
New Releases
Disarm Gods; Christianity and Islam from the Perspective of Non-violence, by Jean-Marie Muller, Translated by Dimitri Avghérinos, AUNOHR, Lebanon, 2015, 440 pages.
Original title: Désarmer les Dieux: Le christianisme et l'islam au regard de l'exigence de la non-violence.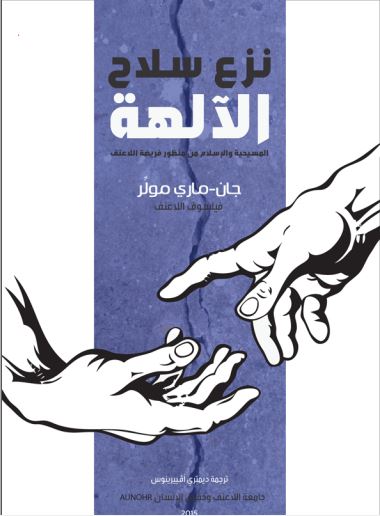 Violence and the nature of human being, by Walid Slaybi, published by the Lebanese Association for Civil Rights, Beirut, 2015, in 5 booklets: Violence and the Nature of human being (31 pages), Life Forces Death Forces (59 pages), War by Civilians (39 pages), Yes for Resistance No for Violence (second edition, 37 pages), Inverse Non-violent Liberation (68 pages).